LAHORE: (Tuesday, May 15, 2018): Punjab University Hailey College of Banking & Finance and Al-Baraka Bank have signed a memorandum of understanding for strengthening institutional linkages with the industry and exploring new vistas for achieving academic excellence through input from external stakeholders. HCBF Principal Prof Dr Mubbsher Munawar Khan, Executive Vice President and Head of Corporate Banking Group, Central and North Regions Mr Shahzad Ismail, Mr Ajmal Minhas, Mr Mustafa Qureshi and faculty members were present on the occasion. According to MoU, it has been agreed that Al Baraka Bank will facilitate the college in developing curriculum and it will also conduct informative sessions on working, prospects and challenges of Islamic banking in Pakistan. HCBF will facilitate in holding the seminars for creating awareness in the public. The bank will arrange for placement of graduate students and will also provide them with internship opportunities at different branches of Al Baraka Bank.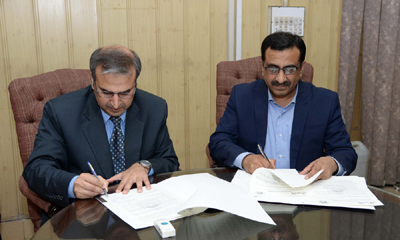 Speaking at the occasion, Dr. Mubbsher expressed his gratitude towards the management of Al Baraka Bank for promoting education in Islamic Banking at HCBF. He admired their interest in the placement of HCBF graduates. He assured that the graduate students have studied a tailored curriculum to meet the needs of the banking industry. He expressed his satisfaction with the delivery standards of the graduates. He was confident that the MOU would contribute towards building strategic relationship and accomplishment of mutual goals.
Mr. Shahzad appreciated the efforts of college management and particularly the role of Dr. Mubbsher in building meaningful relationships with the corporate world in general and banking industry in particular. He expressed his satisfaction with the quality of education and the contents of the curriculum. Efforts on grooming of students were also appreciated.